Ankara Styles For Men – 2020 Trends (Pictures)
Ankara Styles For Men – 2020 Trends (Pictures) ; Back in the days, men wardrobe had limited variations and hence few styles of men's wear to rock. Designers similarly did a lot of injustice in propelling this trend on as most did not focus more on creative arts and style for men. Women got very empowered in all aspects of their life and before long the male child was almost forgotten or rendered less significant.
This awakened many to focus on the men and help them gain their authority, leadership supremacy. Designer then began working tirelessly to groom the man with the best of Ankara styles for men.
At the time Ankara was commonly for women as they solely used to make clothes for them. Bright colors of course could have been the main deterrent. However, a hurricane came and brought a shift in men's style and fashion. Today, it is not unconventional to see a man dressed in Ankara designs for guys walking down the streets in Africa; West African of course leads in prevalence.
I Sometimes doubt if there is any stylish man who does not own a collection of Ankara men's clothing in their closet. Although, this is a native style for men, we still remain tied to it by the virtue of it being from our roots.
What is Ankara style All About ?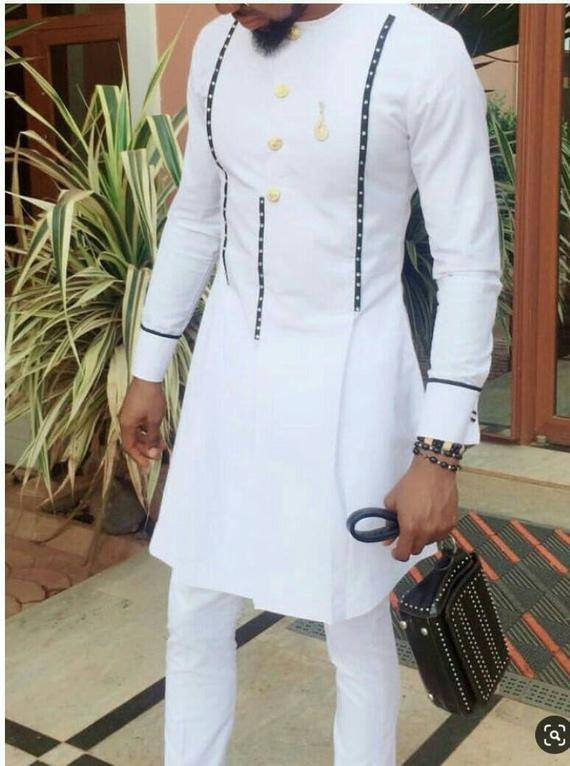 There is no one concise definition of what Ankara is but it basically refers to the native African printed fabric made wears. This may include clothes, shoes, handbag, jewelry, and accessories so long as they are made of the print fabric. Ankara styles have been there since the 19th century only that the popularity was not as it is today.
Following the increased demand for Ankara styles for men, the cotton industries have been at the forefront in supplying fabrics to meet the demand. They have also invested their time and resources towards research in bid to understand what the market wants. The market has different desires and the manufacturers have mastered this far too well.
Apparently, there are different Ankara fabrics of different designs ranging from plain color, flowered, to print fabrics. Basically all market is covered the simple loving customers to the sophisticated ones; there is always is something for everyone. Ankara fabric comes in different quality so it is pocket friendly that anybody can afford. Variation and diversity is there, the ball is not on the customer's side to play and roll it according to how they know best. Allow be to take you to the school of determining a good Ankara style for men before purchasing;
Factors to consider When buying Ankara styles for men
Remember there are your desires on one side and what the market is offering on the other hand. It is not easy to reach to a consensus if you are not decisive enough on what you want. Here is what to consider before purchasing the male Ankara designs 2020.
1. Quality
Quality in Ankara designs for guys I would advise you look at it in these two ways; quality of the fabric used and the quality of the workmanship put in place to have the end product. If you share my approach, then the wear has to be thoroughly scrutinized to ensure it is flawless. Check for any defects, go at all lengths to ensure stitches are done right, deep pleats and darts are skillfully made, seam have an allowances, properly fitting among other things to consider. Besides, it does not hurt to fit into the Ankara style for men cloth look through the mirror to have satisfaction that indeed that wears is suitable for you.
2. Cost
Cost is obviously a determinant here. If you are willing to purchase some Ankara men's clothing but finances are the issue, then you cannot have that wear. One is only able to buy that which they can afford and is their preference.
3. Season/purpose
Do not just buy for the sake of it; Ankara men styles are a great investment it is worthwhile doing it right. It you are looking for a formal style then that should be different from an informal one. I am glad the designers have incorporated Ankara style for men into the corporate look and it's just awesome.
When attending a party, meeting with friends, hanging around for leisure, a less formal look is good. Likewise when going to a business meeting a formal look is advised. Did you know Ankara can have some official wears? Well now you know – reference the West African styles. In understanding the purpose, align the same with body size and structure.
4. Color
Colors tell of a certain mood, emotion, personality or feeling. For instance a male Ankara design 2019 for burial would be different from that of wedding. The latter would be bright and fun filled while for the burial could be dark and less ceremonious. Factoring into account men are somewhat reserved in trying out bright colors, I would advise to pick on some fabric with some bright colors the gradually they will be comfortable with bright colors. Did you know some clothes will look good because of their color not that you have rocked it right? Color makes the world colorful and tasteful. Try out Ankara styles for men with different colors and color combination is what is left for the masculine to do.
Trendy Ankara Styles For Men
Bright color Ankara styles for men
Native style for male
Playful Ankara style for men
Male Ankara designs 2020
Ankara suit designs for men
Ankara shirts designs for guys
Ankara Trousers for guys
Ankara shorts for guys
Ankara men's blazer
Ankara accessories for men
Don't miss out on current updates, kindly like us on Facebook , Follow Us On Instagram &  Subscribe To Our Channel OR leave a comment below for further inquiries.