Kosmos Energy Ghana
About Kosmos Energy Ghana
A Premier Oil & Gas Exploration Company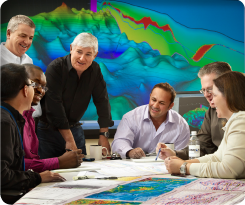 Kosmos is a premier international oil and gas exploration and production company focused on the frontier. Our primary areas of operation are underexplored regions along the Atlantic Margin. We focus on unlocking new hydrocarbon systems and growing and maturing discovered basins through follow-on exploration success, development and production.
We are pathfinders with proven technical expertise and an empowering, contrarian spirit. We are successful in finding and developing oil and gas, and in striking a new balance between risk and reward. These qualities have allowed us to explore areas other companies thought were too risky compared with potential rewards – like offshore Africa where we found the massive Jubilee Field in Ghana's deep waters.
Our asset portfolio includes existing production and major project developments offshore Ghana, as well as oil and gas exploration licenses with significant hydrocarbon potential offshore Mauritania, Morocco, São Tomé and Príncipe, Senegal, Suriname, and Western Sahara.
Kosmos also finds the right balance in our relationships with the governments and countries where we operate, working with them to transform natural resources into national resources, enhancing lives. And we partner well with others in our industry. These skills are paramount to our ability to safely and efficiently conduct the ongoing development that follows discovery.Read More
  Kosmos Energy Ghana Exploration
A Leading Oil and Gas Explorer
Kosmos is an exploration-led company with a proven ability to find large volumes of oil and gas. As expert oil finders, we are focused on identifying and unlocking new hydrocarbon systems, with a vision to grow organically through sustained exploration success.
A WORLD OF OPPORTUNITIES
Kosmos has established a significant portfolio of oil and gas exploration opportunities, with offshore positions in Mauritania, Morocco, São Tomé and Príncipe, Senegal, Suriname, and Western Sahara. We are processing seismic data and maturing prospects in anticipation of testing multiple new petroleum systems.Read More
 Kosmos Energy Ghana Operations
A Passion to Explore, A Drive to Produce
Kosmos is a leading oil and gas exploration and production company focused on frontier and emerging areas along the Atlantic Margin. The company's value-driven asset portfolio includes long-life production and other major project developments offshore Ghana. In addition, Kosmos has made significant hydrocarbon discoveries offshore Mauritania and Senegal, and established leading exploration positions with substantial hydrocarbon potential offshore Sao Tome and Principe, Suriname, Morocco, and Western Sahara. We are also identifying and capturing new petroleum systems in other areas.
EXISTING PRODUCTION: GHANA
Our initial success and the foundation of the company is the Jubilee field, offshore Ghana, which unlocked the Tano Basin petroleum system in 2007. First production at Jubilee came online in late 2010, three-and-a-half years after discovery.
MULTIPLE DEVELOPMENTS: GHANA
Further success offshore Ghana has followed the initial discovery at Jubilee. Development at the Tweneboa, Enyenra, and Ntomme fields (TEN), our second major deepwater oil project in Ghana, is now underway with first production targeted for 2016. In addition,
we completed appraisal of the Mahogany, Teak, and Akasa areas (MTA) in 2014.Read More
 Kosmos Energy Ghana Investors
Investor Overview
CORPORATE PROFILE
Kosmos is a leading independent oil and gas exploration and production company focused on frontier and emerging areas along the Atlantic Margins. Our assets include existing production and development projects offshore Ghana, large discoveries and significant further hydrocarbon exploration potential offshore Mauritania and Senegal, as well as exploration licenses with significant hydrocarbon potential offshore Sao Tome and Principe, Suriname, Morocco and Western Sahara. This portfolio, assembled by our experienced management and technical teams, provides investors with differentiated access to high-impact exploration opportunities. It also gives investors defined, multi-year visibility of the reserve and production growth for our Company. Kosmos is listed on the New York Stock Exchange and is traded under the ticker symbol KOS.Read More
 Kosmos Energy Ghana Careers
A World-Class Organization

Are you a dynamic, highly motivated, rising star? Then you may be right for Kosmos. We are growing through exploration success, development, and production of oil and natural gas in the world's most prospective petroleum basins. As we grow, we're looking for new team players that can fit in with a forward-thinking group that genuinely enjoys working together.
Join Kosmos and you'll have a chance to make a big impact and grow with a company that's going places.
We offer a very competitive compensation program, world-class career opportunities, and an exciting workplace environment.View Our Job Opportuinities
 Kosmos Energy Ghana Contact Details
Kosmos Energy Ghana
D'Anchor House
#12 First Osu Badu Street
West Airport Res. Area
Accra
Tel: +233 (0) 302-740888