Top 10 Tourists Attractions In Ethiopia You Must Visit
Tourists Attractions In Ethiopia – Ethiopia a Country in East Africa, is a rugged, landlocked country split by the Great Rift Valley. With archaeological finds dating back more than 3 million years, it's a place of ancient culture. Among its important sites are Lalibela with its rock-cut Christian churches from the 12th–13th centuries. Aksum is the ruins of an ancient city with obelisks, tombs, castles and Our Lady Mary of Zion church.
Are you looking For the best Tourists Attractions to visit in Ethiopia ? ,whether its being your vacation , Honeymoon , Business travels , Family Travels , Holiday and many More . Wow ! then you are at the right Place .
Scout Africa discovers the Top 10 Tourists Attractions in Ethiopia You Must Visit. Read This Article and scout at any of these Attractions in Ethiopia . Lets Get Started !
Top 10 Tourists Attractions in Ethiopia
Here are the List Of Tourists Attractions in Ethiopia You Must Visit and Their Location Details.
1. Simien Mountains National Park – Amhara Region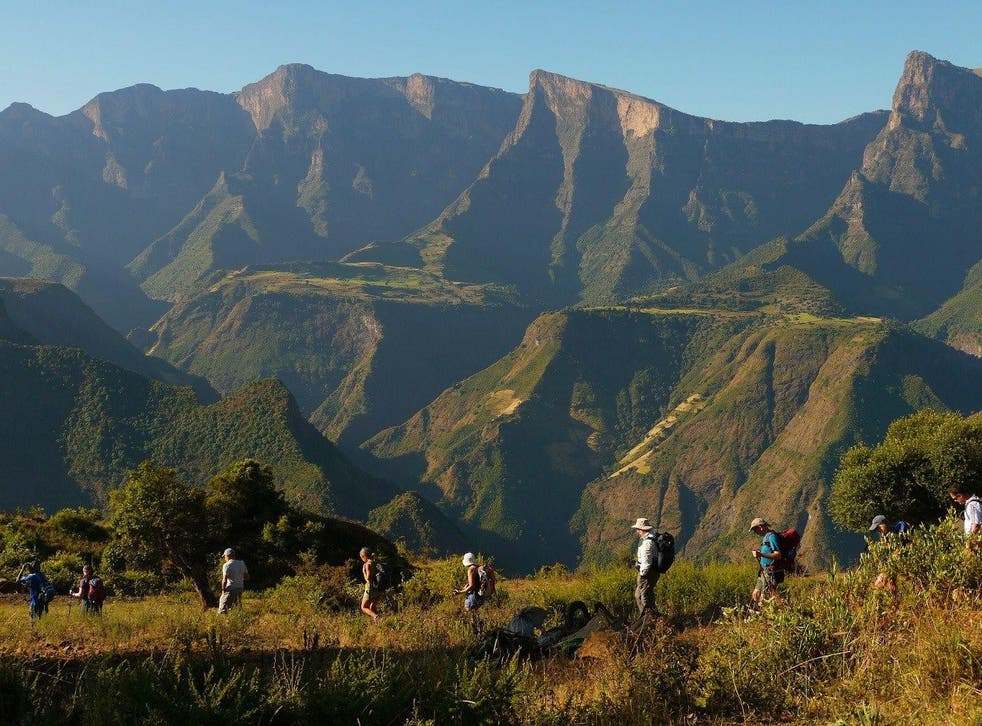 The Simien Mountains National Park, Ethiopia, is a stunning and fragile ecosystem defined by unusual afro-Alpine and afro-Montane habitat. This high-altitude wonderland is home to a number of endemic species, including the charismatic gelada (Theropithecus gelada), Ethiopian wolf (Canis simensis), and Walia ibex (Capra walia). Simien Mountains National Park is the largest national park in Ethiopia. Located in the North Gondar Zone of the Amhara Region, its territory covers the Simien Mountains and includes Ras Dashan, the highest point in Ethiopia.
2. Blue Nile Falls – Town of Bahir Dar and Lake Tana
The Blue Nile Falls is a waterfall on the Blue Nile river in Ethiopia. It is known as Tis Abay in Amharic, meaning "great smoke". It is situated on the upper course of the river, about 30 kilometres (19 mi) downstream from the town of Bahir Dar and Lake Tana.
3. Erta Ale – Afar Region of Northeastern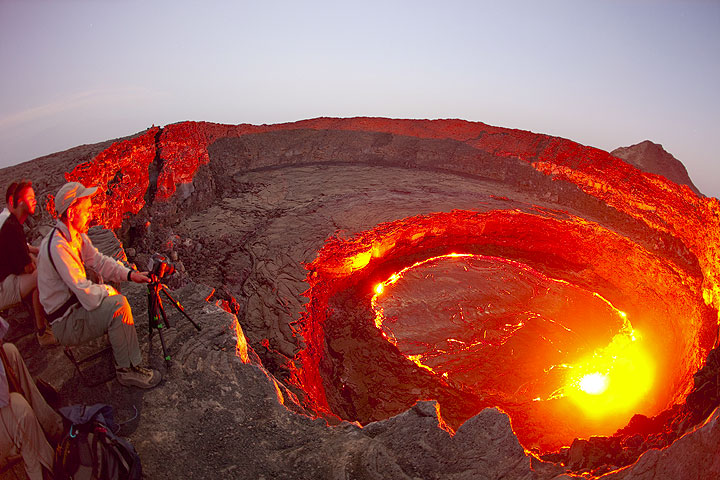 Erta Ale is a continuously active basaltic shield volcano in the Afar Region of northeastern Ethiopia. It is situated in the Afar Depression, a baran desert area. Erta Ale is the most active volcano in Ethiopia.
4. Rock-Hewn Churches, Lalibela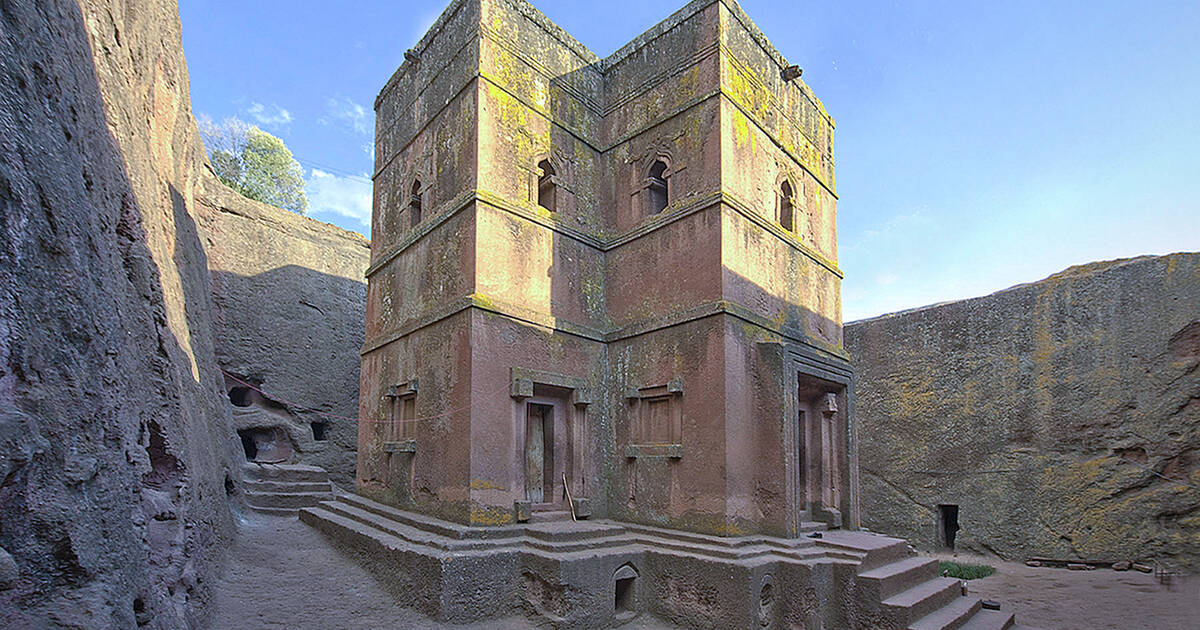 The Rock-hewn Churches of Lalibela are monolithic churches located in the Western Ethiopian Highlands near the town of Lalibela, named after the late-12th and early-13th century King Gebre Mesqel Lalibela of the Zagwe Dynasty, who commissioned the massive building project of 11 rock-hewn churches to recreate the holy city of Jerusalem in his own kingdom. The site remains in use by the Ethiopian Orthodox Christian Church to this day, and it remains an important place of pilgrimage for Ethiopian Orthodox worshipers.
5 . Ras Dashen – Amhara Region
Ras Dejen, also known as Ras Dashen, is the highest mountain in Ethiopia and fourteenth highest peak in Africa. Located in the Simien Mountains National Park in the Amhara Region, it reaches an elevation of 4,550 metres.
6. National Museum of Ethiopia – Addis Ababa
The National Museum of Ethiopia, also referred to as the Ethiopian National Museum, is a national museum in Ethiopia. It is located in the capital, Addis Ababa, near the Addis Ababa University's graduate school.
7. Mount Entoto – Addis Ababa
Mount Entoto is the highest peak on the Entoto Mountains, which overlooks the city of Addis Ababa, the capital of Ethiopia. It reaches 3,200 meters above sea level.
8. Bale Mountains National Park – Addis Ababa
The Bale Mountains National Park (BMNP) is a protected area of approximately 2,200 km2 and is located 400 km southeast of Addis Ababa in Oromia National Regional State in south-eastern Ethiopia. It belongs to the Bale-Arsi massif, which forms the western section of the south-eastern Ethiopian highlands.
9. Holy Trinity Cathedral – Addis Ababa
Holy Trinity Cathedral, known in Amharic as Kidist Selassie, is the highest ranking Ethiopian Orthodox Tewahedo cathedral in Addis Ababa, Ethiopia. It was built to commemorate Ethiopia's victory during Italian occupation and is the second most important place of worship in Ethiopia, after the Church of Our Lady Mary of Zion in Axum.
10. Ura Kidane Mihret Monastery
Ura Kidane Mehret is a church of the Ethiopian Orthodox Church, located on the Zege peninsula around Lake Tana in Ethiopia. It is part of the complex of the Convent of Mercy. At least one author considers it the most attractive church in the Lake Tana region. The Ura Kidane Mehret convent was founded in the 14th century by the saint Betre Mariyam, although the present circular church dates from the 16th century. Its interior is decorated with numerous murals painted between 100 and 250 years ago; subjects include Negus Tekle Haymanot of Gojjam and his followers.
Conclusion enjoy your stay in any of these Tourists Attractions in Ethiopia whether its being a vacation , holiday , Honeymoon etc.…Have a nice day !
Read Also >>>Luxurious 5 Star Hotels In Abuja Ethiopia
Don't miss out on current updates, kindly like us on Facebook , Follow Us On Instagram & Subscribe To Our Channel OR leave a comment below for further inquiries.