Top 10 Tourists Attractions In Kenya You Must Visit
Tourists Attractions In Kenya – Kenya is a country in East Africa with coastline on the Indian Ocean. It encompasses savannah, lakelands, the dramatic Great Rift Valley and mountain highlands. It's also home to wildlife like lions, elephants and rhinos. From Nairobi, the capital, safaris visit the Maasai Mara Reserve, known for its annual wildebeest migrations, and Amboseli National Park, offering views of Tanzania's 5,895m Mt. Kilimanjaro.
Are you looking For the best Tourists Attractions to visit in Kenya ? ,whether its being your vacation , Honeymoon , Business travels , Family Travels , Holiday and many More . Huh ! then you are at the right Place .
Scout Africa discovers the Top 10 Tourists Attractions in Kenya You Must Visit. Read This Article and scout at any of these Attractions in Kenya . Lets Get Started !
Maasai Mara National Reserve
Maasai Mara, also sometimes spelled Masai Mara and locally known simply as The Mara, is a large national game reserve in Narok, Kenya, contiguous with the Serengeti National Park in Tanzania. It is named in honor of the Maasai people, the ancestral inhabitants of the area, who migrated to the area from the Nile Basin. Their description of the area when looked at from afar: "Mara" means "spotted" in the local Maasai language, due to the many short bushy trees which dot the landscape. Maasai Mara is one of the most famous and important wildlife conservation and wilderness areas in Africa, world-renowned for its exceptional populations of lion, African leopard, cheetah and African bush elephant. It also hosts the Great Migration, which secured it as one of the Seven Natural Wonders of Africa, and as one of the ten Wonders of the World. 
Hells Gate National Park
Hell's Gate National Park lies south of Lake Naivasha in Kenya, north west of Nairobi. Hell's Gate National Park is named after a narrow break in the cliffs, once a tributary of a prehistoric lake that fed early humans in the Rift Valley. It was established in 1984. A small national park, it is known for its wide variety of wildlife and for its scenery. This includes the Fischer's Tower and Central Tower columns and Hell's Gate Gorge. The national park is also home to three geothermal power stations at Olkaria. The park is equipped with three basic campsites and includes a Maasai Cultural Center, providing education about the Maasai tribe's culture and traditions.
Lake Nakuru
Lake Nakuru is one of the Rift Valley soda lakes at an elevation of 1,754 m above sea level. It lies to the south of Nakuru, in the rift valley of Kenya and is protected by Lake Nakuru National Park. The lake's abundance of algae used to attract a vast quantity of flamingos that famously lined the shore. Other birds also flourish in the area, as do warthogs, baboons and other large mammals. Eastern black rhinos and southern white rhinos have also been introduced. The lake's level dropped dramatically in the early 1990s but has since largely recovered. In 2013, the lake received an alarming increase in the water levels that led to the migration of flamingos to Lake Bogoria in search for food supply. Nakuru means "Dust or Dusty Place" in the Maasai language. 
Diani Beach
Diani Beach is a major beach on the Indian Ocean coast of Kenya. It is located 30 kilometres south of Mombasa, in Kwale County. It has been voted Africa's leading beach destination for the fifth time running since 2015. 
Amboseli National Park
Amboseli National Park, formerly Maasai Amboseli Game Reserve, is a national park in Kajiado South Constituency in Kajiado County, Kenya. The park is 39,206 hectares in size at the core of an 8,000 km² ecosystem that spreads across the Kenya-Tanzania border. The local people are mainly Maasai, but people from other parts of the country have settled there attracted by the successful tourist-driven economy and intensive agriculture along the system of swamps that makes this low-rainfall area, average 350 mm, one of the best wildlife-viewing experiences in the world with 400 species of birds including water birds like pelicans, kingfishers, crakes, hamerkop and 47 raptor species. The park protects two of the five main swamps, and includes a dried-up Pleistocene lake and semiarid vegetation. About 240 km southeast of Nairobi, Amboseli National Park is the second-most popular national park in Kenya after Maasai Mara National Reserve.
Giraffe Centre
The Giraffe Centre is located in Lang'ata, approximately 20 kilometres from the centre of Nairobi, Kenya. It was established in order to protect the endangered giraffe, that is found only in the grasslands of East Africa. In 1979, the Giraffe Center, a nature sanctuary for visiting and including wildlife conservation education for urban school children, was started by Jock Leslie Melville, the Kenyan grandson of a Scottish Earl, when he and his wife Betty captured two baby giraffe to start a programme of breeding giraffe on their Langata property, site of the present Centre. Since then the programme has had huge success, resulting in the introduction of several breeding pairs of Rothschild Giraffe into Kenyan national parks.
Aberdare National Park
The Aberdare National Park is a protected area in the Aberdare Mountain Range in central Kenya located east of the East African Rift Valley. It covers the higher areas and the Aberdare Salient to the east.
Lake Elmenteita
Lake Elmenteita is a soda lake, in the Great Rift Valley, about 120 km northwest of Nairobi, Kenya. Lake Malawi is similar to the Kenyan lakes in the sense that it is also a Rift Valley lake. However, Elementaita, Nakuru and Bogoria are all alkaline while the Malawi is a fresh water lake
Shimba Hills National Reserve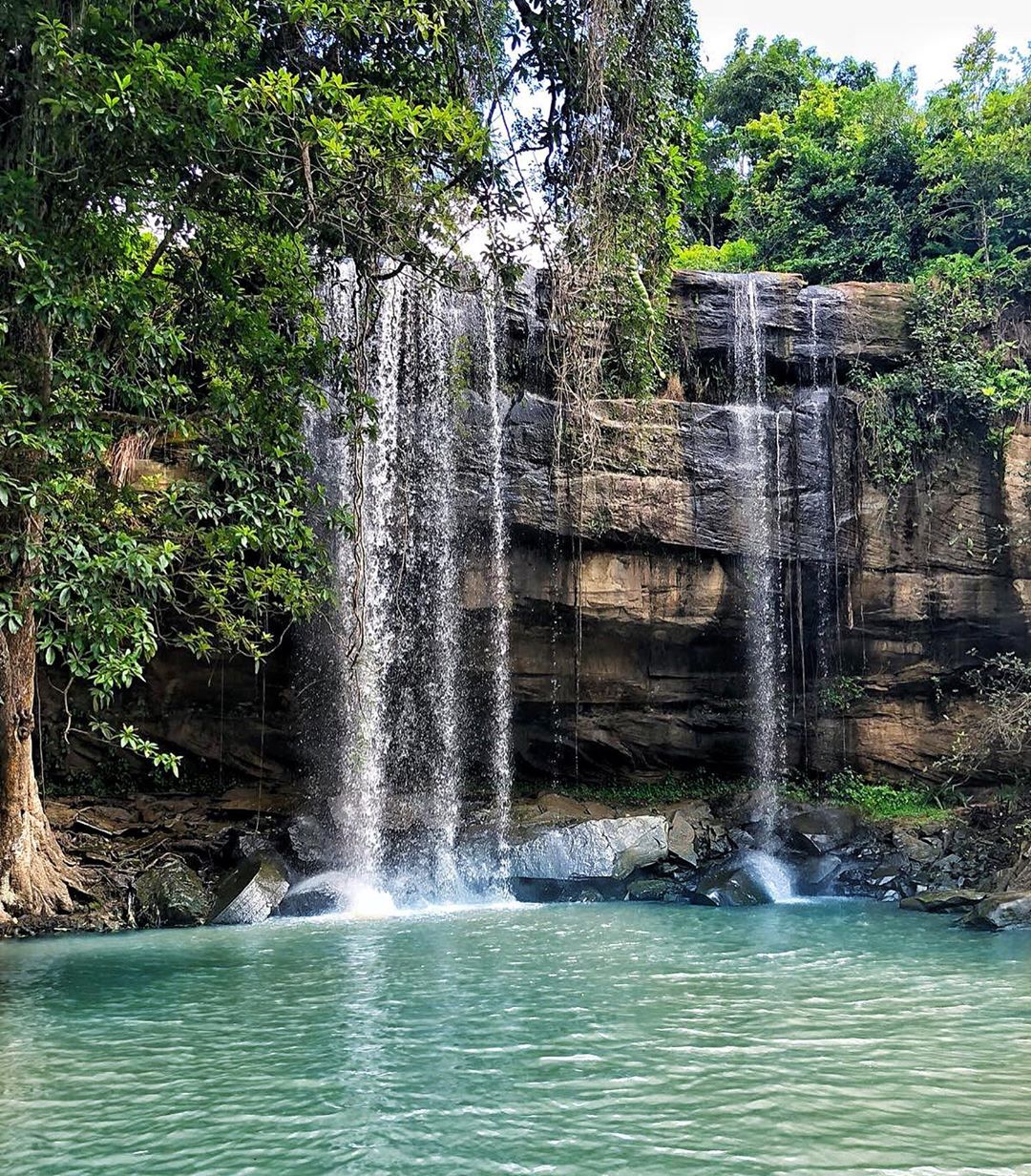 The Shimba Hills National Reserve is a small National Reserve in the former Coast Province of Kenya, 33 km from Mombasa and 15 km from the coast. The reserve is an area of coastal rainforest, woodland and grassland. It is an important area for plant biodiversity – over 50% of the 159 rare plants in Kenya are found in the Shimba Hills, including some endangered species of cycad and orchids. It is also a nationally important site for birds and butterflies. There are estimated to be approximately 700 elephants in the reserve. This population is unsustainably high – it causes significant damage to vegetation, threatening the endangered plant life. Conflict between humans and elephants has also reached critical levels. 
Lake Chala
Lake Chala, also known as Lake Challa, is a crater lake that straddles the border between Kenya and Tanzania. The lake formed approximately 250,000 years ago. The lake is east of Mount Kilimanjaro, 8 kilometres north of Taveta, Kenya, and 55 kilometres east of Rombo District. The lake is surrounded by a steep crater rim with a maximum height of 170 metres. Lake Chala's average annual rainfall is about 565 millimetres. The lake surface has an average annual evaporation of near 1,735 millimetres. Approximately 80 percent of the lake's inflow comes from groundwater, which is derived mostly from rainfall in the montane forest zone of Mount Kilimanjaro at an elevation of 1,800 to 2,800 metres. It takes about 3 months for groundwater to reach the lake. 
Conclusion enjoy your stay in any of these Tourists Attractions in Kenya whether its being a vacation , holiday , Honeymoon etc.…Have a nice day !
Read Also >>Luxurious 5 Star Hotels In Cairo Egypt
Don't miss out on current updates, kindly like us on Facebook , Follow Us On Instagram & Subscribe To Our Channel OR leave a comment below for further inquiries.