Top 10 Tourists Attractions in Uganda You Must Visit
Tourists Attractions in Uganda – Uganda is a landlocked country in East Africa whose diverse landscape encompasses the snow-capped Rwenzori Mountains and immense Lake Victoria. Its abundant wildlife includes chimpanzees as well as rare birds. Remote Bwindi Impenetrable National Park is a renowned mountain gorilla sanctuary. Murchison Falls National Park in the northwest is known for its 43m-tall waterfall and wildlife such as hippos .
Are you looking For the best Tourists Attractions to visit in Uganda ? ,whether its being your vacation , Honeymoon , Business travels , Family Travels , Holiday and many More . Huh ! then you are at the right Place .
Scout Africa discovers the Top 10 Tourists Attractions in Uganda You Must Visit. Read This Article and scout at any of these Attractions in Uganda . Lets Get Started !
Top 10 Tourists Attractions in Uganda
Here are the List Of Tourists Attractions in Uganda You Must Visit and Their Location Details.
Murchison Falls National Park Uganda
Murchison Falls National Park is a national park in Uganda and managed by the Ugandan Wildlife Authority. It is in north-western Uganda, spreading inland from the shores of Lake Albert, around the Victoria Nile, up to the Karuma Falls. Together with the adjacent 748 square kilometres Bugungu Wildlife Reserve and the 720 square kilometres Karuma Wildlife Reserve, the park forms the Murchison Falls Conservation Area.
Muhavura Volcano
Mount Muhabura, also known as Mount Muhavura, is an inactive volcano in the Virunga Mountains on the border between Rwanda and Uganda. At 4,127 metres Muhabura is the third highest of the eight major mountains of the mountain range, which is a part of the Albertine Rift, the western branch of the East African Rift. Its summit contains a small crater lake. The limited evidence for this volcano suggests that it last erupted some time in the Holocene, but the exact date is not known. Muhabura is partly in the Volcanoes National Park, Rwanda and partly in the Mgahinga Gorilla National Park, Uganda. The name Muhabura means "The Guide" in the local language, Kinyarwanda. It can be seen from many parts of Uganda and Rwanda because of its slope.
Mabira forest
The Mabira Forest is a rainforest area covering about 300 square kilometres in Uganda, located in Buikwe District, between Lugazi and Jinja. It has been protected as Mabira Forest Reserve since 1932. It is home for many endangered species like the primate Lophocebus ugandae.
Lake Mutanda
Lake Mutanda is a small freshwater lake in Uganda.Lake Mutanda is a small, freshwater lake in the far southwest of Uganda, close to Bwindi Impenetrable Forest and Mgahinga Gorilla National Park.
Bulago Island – Island in Uganda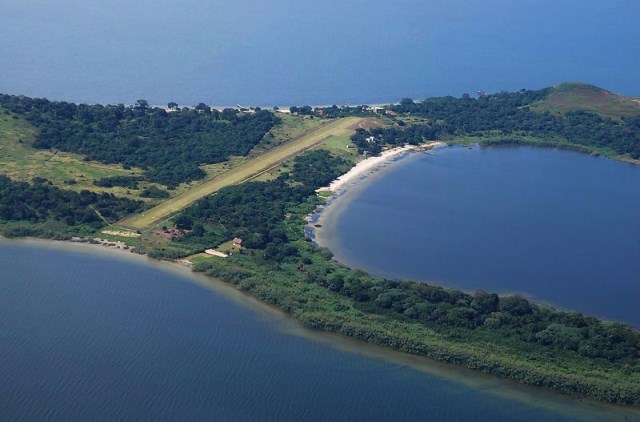 Bulago Island Day Trip from Kampala, Uganda is a day tour to Bulago Island – a 500- acre island, located in Lake Victoria. The Island is only a 45-minute boat ride from Entebbe's boat club in good weather.
Griffin Falls Camp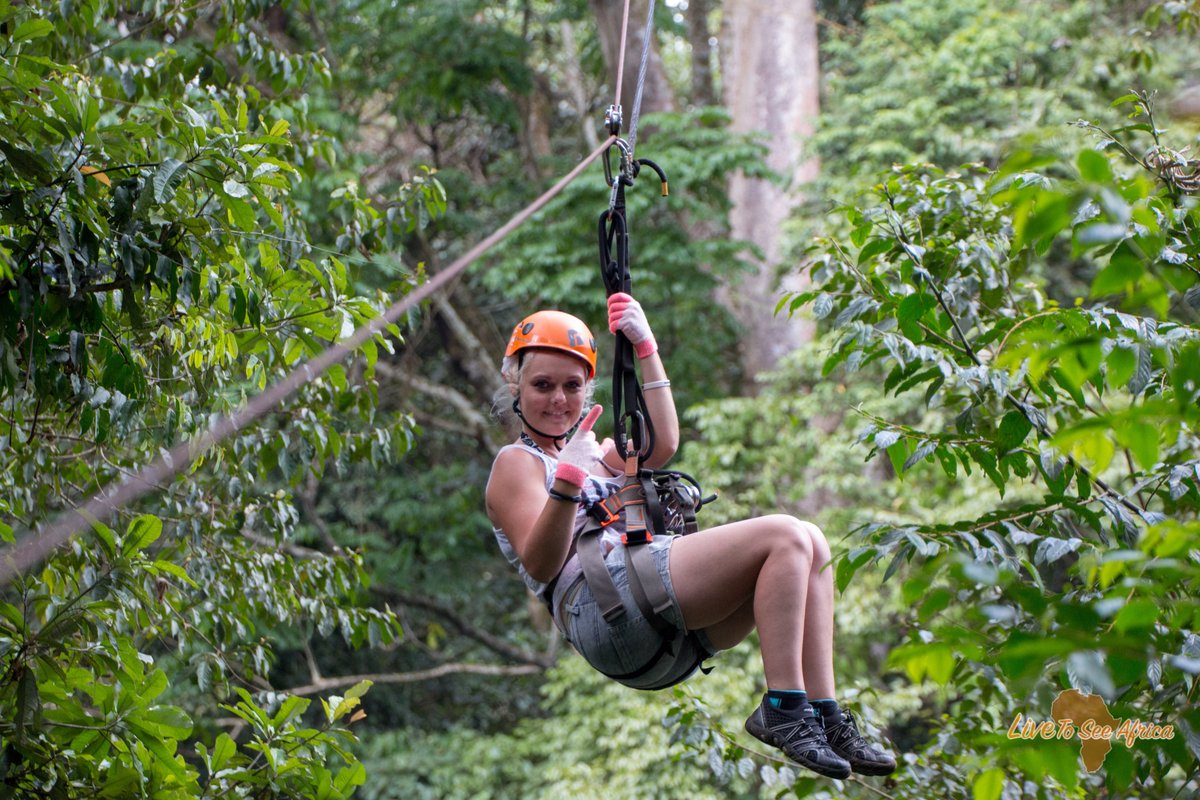 Griffin Falls Camp also known as Mabira Forest Camp is on the edge of a vast trail system in beautiful Mabira Forest Near, Lugazi, Uganda.
Entebbe Botanical Garden
The Entebbe Botanical Gardens established in 1898 are situated on the northern shores of Lake Victoria virtually on the equator. Experiencing an annual rainfall of 1623 mm and at an altitude of 1134 metres the gardens are set in 40.7 hectres.
The gardens house a collection of species of plants of the tropical, sub-tropical and temperate zones, besides several shrubs and other plants regenerated naturally over the years.The collection as of 1998 numbered 309 species, 199 indigenous to Uganda, 122 with known medicinal value and 110 exotic. The gardens are a popular attraction for visitors of which some 40,000 per year are passing through the gates since the rehabilitation in 1998.
Itanda Falls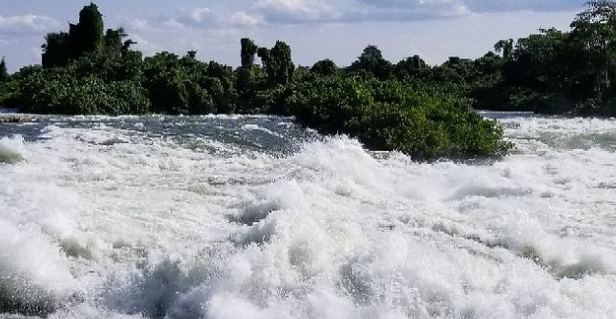 The Itanda Falls are rapids on the White Nile river in Uganda. They are a challenge for kayakers, being graded at the highest level of difficulty.
Tubing the Nile
Tubing the Nile is the best premium company with adrenaline drifting on the Nile with a tube ( inner tube ) on both mild( flat water tubing ) and wild waters ( white water tubing ).
Lake Bunyonyi
Lake Bunyonyi is in south-western Uganda between Kisoro and Kabale, and it is close to the border with Rwanda. The lake appeared from 2004 to 2009 on the 5,000 Ugandan shilling note under the title "Lake Bunyonyi and terraces". Scientific literature generally quote a maximum depth of 40 m, but some tourist guides and locals insist that it much deeper, about 900 m, which would make it the second-deepest lake in Africa. Towns on its shores include Kyevu and Muko, while its 29 islands include Punishment Island and Bushara Island.
Conclusion enjoy your stay in any of these Tourists Attractions in Uganda whether its being a vacation , holiday , Honeymoon etc.…Have a nice day !
Read Also >>>Luxurious 5 Star Hotels In Kampala
Don't miss out on current updates, kindly like us on Facebook , Follow Us On Instagram & Subscribe To Our Channel OR leave a comment below for further inquiries.