What are the best Wedding Gowns For Brides In Nigeria? When it comes to weddings in Nigeria, choosing the perfect wedding gown is a momentous decision for any bride. The bridal attire not only reflects the bride's personality but also showcases the rich cultural diversity of Nigeria. What, then, is A Wedding Gown ? A wedding dress, or bridal gown, is the dress worn by the bride during a wedding ceremony. The color, style, and ceremonial importance of the gown can depend on the religion and culture of the wedding participants.
In this article, we will explore 15 stylish bridal wear ideas for brides in Nigeria, catering to various tastes and traditions.
Factors to consider When buying Wedding Gowns For Brides In Nigeria
When buying wedding gowns for brides in Nigeria, there are several important factors to consider to ensure that you choose the perfect dress for your special day. Nigerian weddings are known for their grandeur and cultural diversity, so here are key factors to keep in mind:
Determine your wedding gown budget early in the planning process. Wedding gowns come in a wide range of prices, and knowing your budget will help narrow down your options.
Consider the theme and location of your wedding. Whether it's a traditional Nigerian wedding, a destination wedding, or a modern urban celebration, your gown should complement the overall style.
Nigeria is culturally diverse, with various ethnic groups, each with its own wedding attire traditions. Decide whether you want a gown that represents your cultural background or a fusion of different cultures.
Choose a gown that flatters your body shape and size. Wedding gowns come in various silhouettes, such as ballgown, mermaid, A-line, and sheath. Consider what style complements your figure.
Decide on the length of your gown. Traditional Nigerian brides often wear floor-length gowns, but you can opt for different lengths based on your preferences and the formality of the wedding.
Consider gown sleeve style for overall look and comfort.
Nigerian wedding gowns can be made from various fabrics, including lace, satin, silk, and chiffon. Choose a fabric that suits the climate and your comfort level.
Nigerian brides often use colorful elements in their gowns, considering personal or cultural significance.
Nigerian wedding gowns often feature intricate embroidery and beadwork. Determine the level of embellishment you desire, as this can significantly impact the gown's overall look.
Think about the accessories you want to pair with your gown, such as veils, headpieces, jewelry, and shoes. Ensure they complement the gown's style and your overall look.
Factor in the cost and timing of any necessary alterations. It's essential that your gown fits perfectly on your wedding day.
Prioritize comfort, especially if you'll be wearing the gown for an extended period. Ensure you can move, sit, and dance comfortably.
Decide whether you want a designer gown or a custom-made one. Custom-made gowns offer the advantage of being tailored to your specific preferences.
Start shopping for your wedding gown well in advance to allow time for fittings, alterations, and any unexpected delays.
Understand the return and exchange policies of the bridal boutique or designer you choose. Be aware of any restrictions or fees.
Consider the weather conditions on your wedding day and choose a gown that suits the season and climate.
Wedding Gowns For Brides In Nigeria: 10 Stylish Bridal Wear Ideas
These stylish wedding gown ideas for Nigerian brides celebrate the rich cultural heritage and fashion diversity of Nigeria. Whether you prefer a traditional or contemporary look, there are endless options to make you feel stunning and culturally connected on your wedding day.
Here are the List Of the Best Outstanding Wedding Gowns For Nigerian Brides ;
1. A-Line Wedding Dress Style
An A-line wedding dress features a fitted skirt that flares out from the bodice's waistline, creating the shape of the capital letter A. This silhouette flatters any body shape and highlights the waistline.
2. Mermaid Wedding Gown Style
Mermaid dresses flatter curvy hourglass or muscular body shapes, providing a fitted, volume-filled silhouette that showcases hourglass contours and strong arms, thighs, and derriere.
3. Ball Gown Wedding Dress Style
Ball gown wedding dresses have full-skirted silhouettes, flattering all body types. However, they can be difficult to wear on a bride's day. Consider the person and wedding style when shopping, as they may not suit those who enjoy dancing and partying.
4. Trumpet Wedding Dress or Fit and Flare Wedding Gown Silhouette
Trumpet wedding dresses are the third gown style that features a flared skirt. Flaring at the mid-thigh, the trumpet silhouette reflects the name perfectly by resembling a true trumpet shape.
A trumpet dress should fit slightly higher to create length in the torso and legs, with elongation through hips and flare out above the knee.
5. Empire Waist Wedding Dress Style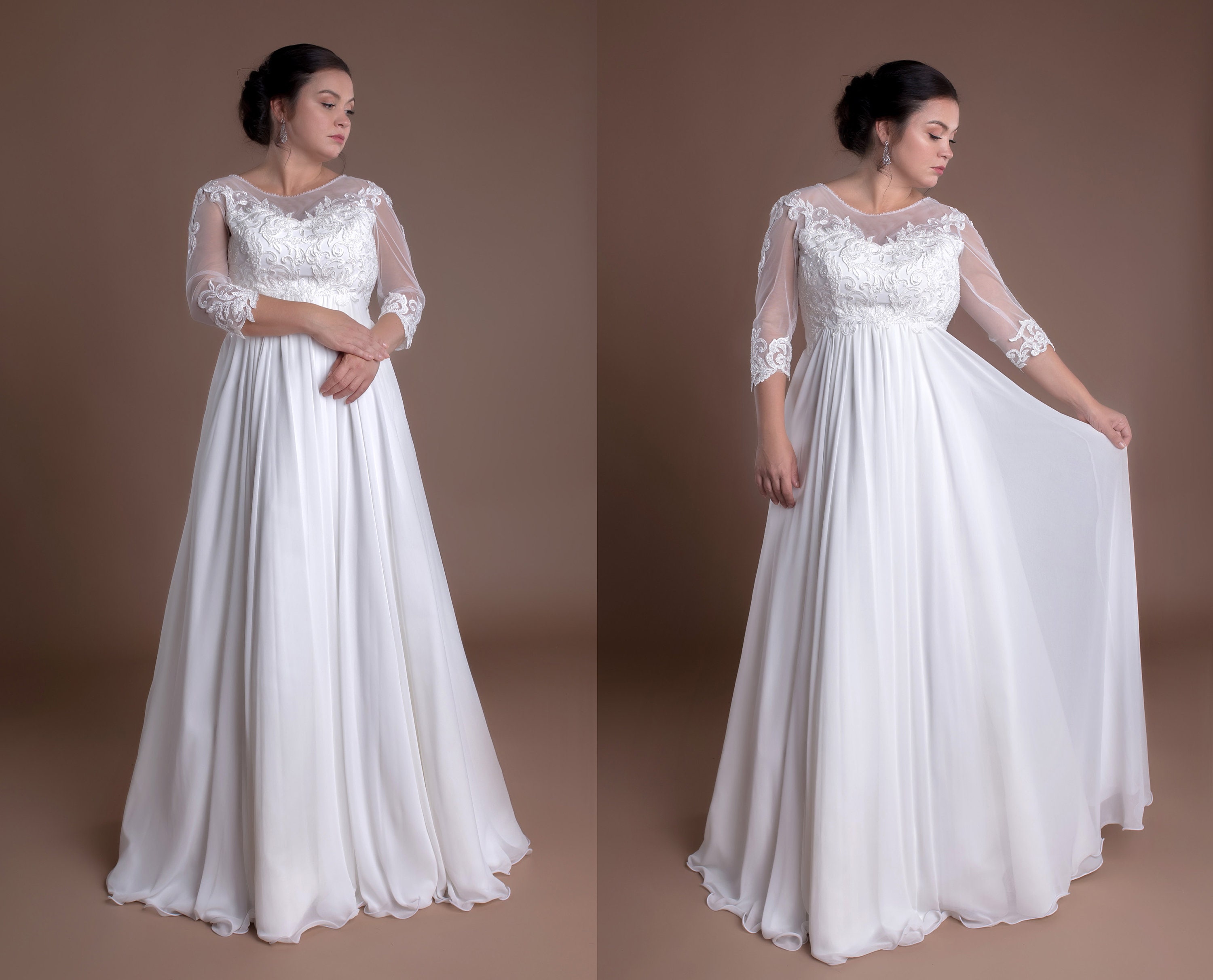 Empire wedding dress features a tight bodice and a higher waistline than usual, exactly below the bosom. It's true that empire style wedding dresses are indeed excellent choices for a beach/destination wedding or a garden wedding.
6. Column (Sheath) Silhouette Wedding Dress
A sheath wedding dress is a tailored, narrow style with minimal flare, ideal for brides seeking an effortless gown with minimal fabric and layering. It suits slender bodies.
7. Aso Oke Gown
Aso Oke, a traditional Yoruba fabric, can be transformed into a stunning wedding gown with intricate embroidery and beadwork.
8. Peplum Gown
A peplum wedding gown with traditional African print accents and beadwork adds a touch of modern style to the bridal look.
9. Iro and Buba Gown
For a traditional Yoruba wedding, an Iro and Buba gown made from richly patterned Aso Oke fabric can be customized for the bride.
10. Hausa Fulani Style Gown
A Hausa Fulani-inspired wedding gown featuring intricate embroidery, henna designs, and a matching turban creates a regal and cultural look.
Where To Shop Wedding Gowns For Brides In Nigeria
When shopping for wedding gowns for brides in Nigeria, you have several options to explore, both locally and online. Here are popular places to find a wide variety of wedding gowns tailored to Nigerian brides:
Visit local bridal boutiques and bridal shops in major Nigerian cities like Lagos, Abuja, Port Harcourt, and Kano. These boutiques often carry a range of wedding gowns, including traditional and contemporary styles.
Consider working with a local bridal designer or dressmaker who specializes in creating custom wedding gowns. This allows you to have a gown tailored to your unique style and preferences.
Attend bridal exhibitions, fairs, and shows in Nigeria, such as the Lagos Bridal Fashion Week. These events often feature bridal designers and boutiques showcasing their latest collections.
Explore online bridal retailers and websites that offer a wide selection of wedding gowns for Nigerian brides. Some popular online options include:

BellaNaija Weddings: BellaNaija Weddings has an online bridal store that features a variety of wedding gowns, including traditional and modern styles.
Jumia Nigeria: Jumia offers a range of wedding gowns and bridal accessories for online purchase.
Konga: Konga is another online marketplace where you can find bridal gowns and accessories.

Nigerian bridal boutiques showcase collections on Instagram, connecting with designers.
Some international bridal designers offer shipping to Nigeria. If you have a specific designer in mind, you can explore their collections and inquire about international shipping options.
Local tailors and seamstresses with experience in bridal wear can create custom wedding gowns based on your preferences and specifications.
Some bridal shops in Nigeria offer wedding gown rental services, allowing brides to wear designer gowns at a fraction of the cost.
Occasionally, you may find gently used wedding gowns in consignment shops, which can be a budget-friendly option.
Explore online platforms and marketplaces that specialize in pre-owned wedding gowns, as they may have listings suitable for Nigerian brides.
Consider shopping from international online bridal retailers that offer worldwide shipping, but be sure to check shipping costs and import fees.
See Also >>>Latest Unique Lace styles For Women 2023
Don't miss out on current updates, kindly like us on Facebook , Follow Us On Instagram & Subscribe To Our Channel OR leave a comment below for further inquiries.